My interview with One's True Nature
Lite-Bright Blonde
Innovative photographer, with signature blue-stained " Mermaid" tipped hair and a style that can simply be described as a Club Kid's dream world of class and creativity. Anthony Rogers, a second year student at the Academy of Art is coloring the world daily with his many talents and impacting personal street style. Turning heads each day in platform heels, designer labels and thrift store second hand treasures. " Different, edgy, inspired and happy-go-lucky," is how he illustrates how he gets dressed each morning, making it easy for him to be noticed in the best way possible. Living in San Francisco, but born in Tri-cities, Washington, it's always easy to view him in a crowd since he stands out effortlessly.
" Leggings, Denim Shorts and shoes, preferably wedges," are the must-haves and go-to pieces in Anthony's closet. The true gift is really how he puts it all together unconventionally ,unique and most importantly, unexpected. This blonde stands at a intimidating, 6 foot 3 and in heels, 6 foot 5, but the intimidations quickly demolish when getting a chance to chat with him. He is a natural born lovable, people-person with a warm, kind heart. Immediately when introduced, his big, adoring smile draws you in and keeps your attention. However, for me it was the style that first made me want to get to know the "real" Anthony. The perfect model, with growing Tumblr followers and rapid popularity and demand in photography. Fashion Photography is his main expertise, and he plans to shoot the fashion ads for higher-end magazines and advertisements. When I asked him what his biggest inspirations for his style are, he gracefully replied, " famous fashion blogger, Aimee Song, Independent style bloggers, local San Francisco blogger Lulu Chang, and Famous Fashion Illustrator, Nancy Zhang." Which is simply appropriate in his water color lucid wardrobe.
And celebrity influences stem from the fore corners of the world, and everything that lies in between. " South Korean music artists, Brown Eyed Girls , Japanese music artist, Kyary and Fashion models, Daul Kim, Hyoni Kang and Tao Okamoto," add to the gigantic " ping-pong match between Eastern and Western" hints that flutter in his outfits.
The places he shops for all his signature pieces from local Washington thrift stores, some designer garments such as Alexander Wang , Miu Miu and department stores like Wal-mart, Target and K-mart for affordable yet stylish goods. It's all in the hand-crafted creativity and thought that his mind brings to the table leaving him unforgettable in the fashion world.
" A color-coordinated, hot mess that views the world through a camera lens and an arm hole." As said by the fierce young man himself, about his true American spirit that has no boundaries when dealing with style and art. A true artist, who's mediums of choice is a Nikon D60 and Photoshop Cs5. Changing the world one photo shoot at a time, wearing Jeffrey Campbells and a see-through mesh long sleeved button up shirt, always evolving and leaving his trademark on the world, Anthony Rogers is going to be the next Richard Avedon.
Posted on September 29th at 1:03 AM
Tagged as: interview. my style. my fashion. fashion. style. me.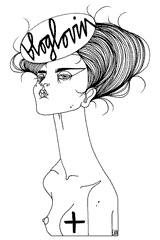 Theme by:
Heloísa Teixeira